Wall systems that allow you to create a space with more than one function and more than one environment.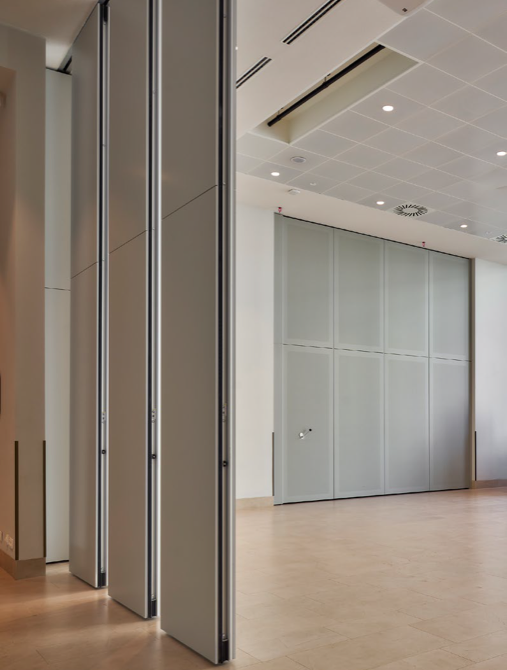 Mobile partitions are the perfect solution for temporarily dividing interior spaces in various arrangements. Mobile partitions can be used to delimit spaces in order to meet multiple needs and without having to allocate a room for each use by enlarging or reducing different areas to host any type of event, meeting, conference or activity organised and held by your company or employees.
Ibermodul partners with Espero, a leading company in mobile partitions with over 80 years' experience in Belgium, Luxembourg and Holland, to offer a range of mobile division solutions that adapt to all projects. Headquartered in Waalwijk, Holland, Espero have unrivalled knowledge of the demands placed on reliable, durable, high-quality mobile walls. A conference in the afternoon, a theatre production in the evening, start the day with a meeting between four colleagues, end the day with drinks scattered around the department and all in the same space. Mobile partitions create intelligent solutions for an incredible range of rooms and buildings worldwide; from offices, hotels and sports halls to churches, theatres and universities. So much more is possible with Espero mobile partitions.
These dividing wall systems can be used to form multifunctional spaces with different environments. They provide a myriad of variations in terms of function, acoustic performance and aesthetics. One space, but with infinite ways of enjoying it.
Projects made with Movable Walls
Subscribe
to our Newsletter